George Best Belfast City Airport Car Rental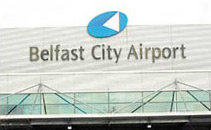 Formerly known as Belfast City Airport, George Best Belfast City Airport is owned by Eiser Infrastructure Fund. Situated around two miles from Belfast city centre, George Best Belfast City Airport is a regional airport several destination mainly in Ireland and Great Britain. A car rental from Belfast City Airport offers quick access to Belfast city and its various attractions. We, at Ireland Car Rental, present top car hire discounts from Belfast City Airport to both business and leisure travelers. When you rent a car at Belfast City Airport through us, you also enjoy around the clock customer support and breakdown assistance. Our vision is to make your car hire experience at Belfast City Airport as convenient as possible.


George Best Belfast City Airport handles around 2.5 million passengers every year. Named after the famous footballer from Belfast, George Best Belfast City Airport is a hub for airlines like Aer Arann, Thomas Cook Airlines Belgium, EasyJet, BMI, Flybe, EasyJet, Ryanair and Manx2.
George Best Belfast City Airport has one passenger terminal equipped with advanced and modern facilities. There are a large number of ATMs and telephones located throughout the airport. The travel exchange outlet is located on the ground floor offering a wide range of currencies. This airport has four Internet Kiosks where the travelers can pay and access the internet. The travelers carrying their laptops can also access the net through the 'BT Openzone' network available at the airport which provides wireless LAN connection.

The travelers can get all the essential information about transport to and from the airport, flight status, parking and more through the Information Desk. Taxi, buses and car rental desks are few of the ground transportation medium supported by this airport. Belfast City Airport car rental deal is one of the most preferred means of commuting among international travelers.
The airport has a tourist information center located in the arrivals hall. The center has a team of travel advisors comprising of French, German and Spanish speakers who caters to the needs of domestic and international travelers. The business travelers can carry out their important meetings and conferences at the conference suite. George Best Belfast City Airport offers a wide range of renowned eating outlets, bars and cafes where the travelers can eat, relax and have a great time. The other facilities offered at George Best Belfast City Airport are- toilets, baby changing facilities and other special facilities for the disabled persons.

George Best Belfast Airport is located at only ten minutes drive from the city centre which makes car hire at Belfast City Airport the easiest and cost effective way of commuting for the travelers. Just book your Belfast City Airport car rental deal in advance and plan your itinerary your way.