Galway Airport Car Rental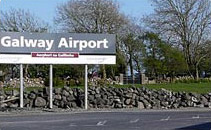 Operated by Corrib Airport Limited, Galway Airport is located around 3.7 miles from the city of Galway. Galway Airport serves several daily and weekly flights within Ireland and to the UK. The main airlines operating at Galway Airport are- Aer Arann and Manx2. Car rental at Galway Airport is one of the most used options to travel to or from the airport. Car renting is a popular and cost-effective way through which the travelers can reach their airport or from the airport, to their desired destinations within the city. We offer low priced car hire services at Galway Airport. From top rental discounts, easy pick up and drop off service, wide fleet of  cars to around the clock customer support, our Galway airport car rental service consists of everything you need to enjoy comfortable commuting from airport to city. 

Galway Airport is small and has a single terminal which offers all the essential facilities for the convenience of the travelers. The main terminal has an Information Desk which is opened daily and assists the travelers with all the important information about their flights and travel. Galway Airport has public telephones, baby changing rooms, special disabled toilets located throughout the terminal. The travelers can check their mails and access free internet service at the airport. This airport has a café shop, AV-8 Bar & Restaurant and several vending machines where the travelers waiting for their flights can eat, drink and have a pleasurable time. If you are at this airport for change of flight and have time to pass, rent a car at Galway Airport to drive around.
Galway Airport has a gift shop located in the Departures Lounge which offers a wide range of products like chocolates, books, souvenirs, cosmetics, crystal, jewelry and lot more. The travelers arriving at the airport for a business trip or for leisure can hire a car at Galway Airport and visit all the attractive destinations within the city. Car rental at Galway Airport means quick access to Galway's local attractions, pubs and restaurants.
Book your Galway Airport car rental deal with us now!