Galway Car Rental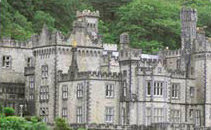 Also known as Cathair na Gaillimhe, Galway is the fifth largest and the fastest growing city in Ireland. Located on the west coast of Ireland, Galway is third largest city in the Republic. The only city situated in the Connacht province, Galway got its name from Gaillimh River. Galway was a great trading port in the earlier times and presently it has gained the reputation of a vibrant and lively city attracting lot of tourists from all around the world. Best way to enjoy and explore its multi-cultural environment is a cheap Galway car rental deal. We let you rent a car at Galway at lowest prices, along with CDW, unlimited mileage and 24/7 support service. Our Galway car rental deals let you enjoy easy commuting in a city with thriving Irish music and dance scenes.
Galway is a growing metropolitan city with beautiful and interesting tourist sights. With a great historical treasure, Galway boasts fascinating historical buildings. You can hire a car in Galway and explore the interesting sights at your own pace. Lynch's castle is the oldest house in the city. This house dates back to 15th century and presently it boasts a mini museum and an array of wonderful carvings on the outside featuring frolic dragons and gargoyles. There are some beautiful museums in the city like- the Galway City Museum which features two parts "Fragments of a City" and "On Reflection". The Church of Ireland St. Nicholas' Collegiate Church is one of the beautiful churches which travelers must see.

Galway being a coastal city offers the travelers with several opportunities for sailing, sea fishing, boating and lot many water activities. The shopalholics can have a great time in Galway as it offers with versatile shopping opportunities. The travelers can buy the latest designer accessories at the upcoming boutiques located within the city. With around more than 25,000 students residing in the city, Galway boasts amazing pubs and nightclubs which offer the travelers with a thrilling nightlife. Car hire in Galway is the most convenient means of exploring the fine Irish nightlife of this city.
Book your car rental at Galway now!