Kerry Airport Car Rental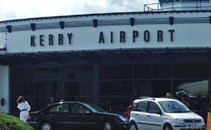 At the core of Kerry County you can easily locate the Kerry Airport, some 9.2 miles southeast of Tralee. Extensive facilities at the Kerry Airport provide comfort and ease to the travelers making it a passenger friendly airport. We, at Ireland Car Rental, present easy to book car hire services for Kerry Airport. From vast number of rental deals, 24/7 customer support to best rental benefits, our car rental services for Kerry Airport serves both business and family travelers.
The major service providers include Aer Arann and Ryanair, connecting many destinations. This Airport is managed by efficient staff which has a personal touch to their professional services helping travelers in any way they require.
Once you are in the Kerry Airport you can access the ATM and the Bureau de Change, so cash problems are met out in the first instance. Kerry Airport has special facility for the disabled so they can easily navigate through the Airport. If you wish to buy a gift or any other thing while still on the Kerry Airport, you can easily do so by visiting the Gift Shop situated in the concourse of the Airport. Connect with your loved ones by accessing the telephones booth which can be located without any hassle. This also has internet, wi-fi facility and a Kerry Airport car hire for the passengers.
At the Kerry airport's main space you will find pleasing restaurants and bars providing hot and cold meals, snacks, teas, coffees and soft drinks. Other, facilities of Kerry Airport includes the baby change facility, car parking and special parking for the disabled. If travel jaunts have brought you to Kerry Airport then you can also take a small trip to places around the airport. You could use the car hire facility readily located at the Kerry Airport to visit places like Killarney National Park, which is extremely beautiful, especially its lakes. Kerry city itself is near the Atlantic Ocean opening one the most spectacular oceanic vistas for the travelers to enjoy.
Rent a car from Kerry Airport now!